---
Christmas is just right around the corner! Everyone is getting ready with their shopping list. Do you already have a gift in mind for your kids? With tons of options, choosing the best Christmas gift for your child can be hard. To help you out, here are some of the best crane and truck toys that your kids will surely love.
Bruder Mack Granite Liebherr Crane Truck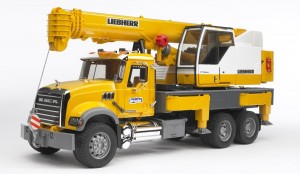 This Mack Granite Liebherr Crane Truck from Bruder offers kids realistic and fun playing time. The boom on the Mack Crane Truck reaches up to 50 inches high, with an extension part that snaps to the end of the boom. The telescopic along with the height-adjustable jib works together with a patented adjusting cylinder and there is a tool for quick noiseless lowering of the die cast hook. There are 4 outriggers to guarantee the highest degree of stableness, as well as, a counter weight that can be filled up with sand to balance the load of the crane. The Mack Truck has swing-out decorative mirrors, soft rubber-like sculptured tires and a view of the motor system when the hood is actually unlatched. The Operator's Cab has a sliding panel door to get easy access and the crane swivels 360°. This Mack Crane Truck is made with the highest level of quality plastic and the remarkable detail that is likely of a Bruder Truck.
Toy State Caterpillar Construction Massive Machine: 10-Wheel Crane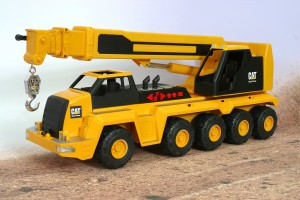 Your kids will love this Power-driven 10-Wheel Crane toy with lighting parts and sound fun. It features push buttons that can command forward as well as reverse driving. The exciting music and realistic motor sounds, in addition to fun vocal phrases will help stimulate their senses. Its Boom arm can manually extends up to 28″.
Diecast Model Yellow Truck Crane 1:50 Toy Car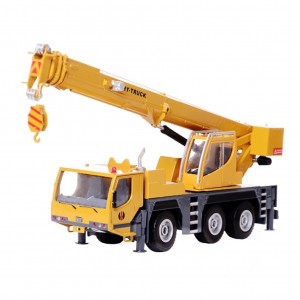 The mechanical arm of this model is adjustable and the wheels are rotatable. It is made of materials that are generally less hazardous and presents few health risks especially for kids. This durable and highly detailed crane truck toy will make playing time for kids more fun and exciting.
No matter what you will get for your kids this coming Christmas, note that the key point is the essence behind the act. It could be among the finest toys, the most expensive, and the cheapest or perhaps the one written on your own children's wish list, it doesn't matter, so long as you have given them something whether they have been nice or perhaps slightly naughty.