Through our partner HCS Transportation, Inc., we offer a full range of services in legal, over-sized and large capacity loads. From single truckloads to multi truck shipments, we provide nation-wide service through a robust inventory of heavy haul trailers and specialty dollies and jeeps. With our diverse fleet and industry expertise, we've earned a reputation for our ability to haul specialty loads that other trucking companies simply won't touch.

We also offer full rigging services and crane needs for any type of equipment that may need to le lifted or rigged into position. In all, we offer a wide range of transportation and trucking services, including:
Haul Heavy Machinery
Transformer baskets
Haul HVAC
Flatbeds (35' – 48') and Stretch Flats
5, 9, 13 Axle Combinations
Single Drops
Double Drops and Stretch Double Drops
Jeep/Dollies Combinations
Storage Facilities
In-House Crane and Rigging Services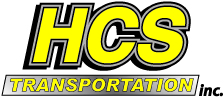 For more information on how HCS Transportation's experienced team can help your next project, visit the HCS Transportation website today.