---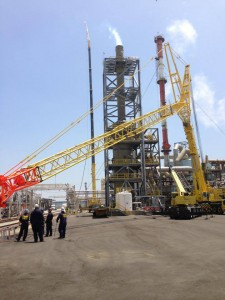 Big projects are definitely not possible without having a  crane specifically when it involves loading, unloading and  moving of heavy materials. The abilities of the cranes has  simplified many building  and construction projects. If you are  planning a project, crane service is the most cost effective  choice.
 Some of the advantages of having crane service for  your next project includes:
 Qualified Operators
You don't have to find someone to operate it because the crane  company will provide you with an employee that went through  proper training and lots of experiences in operating along with  handling cranes in different set up. This ensures that the crane is utilized safely and efficiently.
Different Cranes for Different Uses
Cranes come in different types made for a specific task. When you take advantage of crane service, the company will provide you with the right and suited type of crane for your project needs.
Heavy machines just like cranes require regular maintenance. Crane companies have employees who know to take care of it. By hiring crane service, you don't need to spend for its maintenance and repair. And as a client you will also have the peace of mind knowing that your cranes are in good conditions.
Before, more manpower were required to complete a task that usually takes many days. Cranes can do multi-tasking and this will lessen the number of people needed to complete a project.
HIRING TIPS: Prior to hiring a crane company, take the time to research first. Look at feedbacks of the previous customers online. Find out if they have the required license and permit. A reputable company like Hill Crane has an impeccable safety record and expertly trained operators.