---
A lot has happened since we first opened our doors 67 years ago. What started out as a mom & pop operation with a single crane has now emerged as one of the largest and most advanced fleets this side of the country. We owe our success to our great customers, unmatched capacity and a staff committed to flexibility, service and safety.
Because of these attributes, Hill Crane continues to grow. We are currently expanding to Palm Springs and Las Vegas, and our incredible fleet of cranes continues to grow along with it.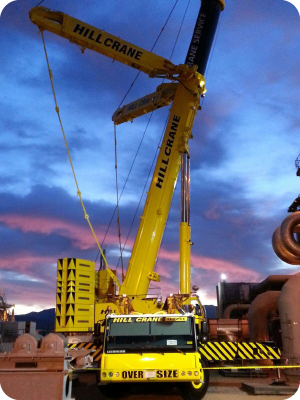 Our latest addition is one of the most environmentally-friendly cranes on the market. The LTM1220 5.2 boasts a Tier 4 engine – equipped for even the strictest emissions standards. It's ideal for jobs in environmentally sensitive areas, such as our work near coastal harbors. 
And if you read our blog, you'll know we recently added an all-terrain hydro crane that can climb anything the rugged wilds of the West Coast can throw at it.
In all, Hill Crane now has over 50 cranes to serve customers in a wide range of sectors, from energy, oil and gas, to transportation, public utilities and more. And we have even more cranes in our pipeline.
All those cranes, new locations and new clients also increase our reliance on attracting top talent. With Hill Crane, our customers have come to expect the best. In addition to our group of talented and dedicated staff, we are also tapping into the Ironworkers Union Local 433 to build out our rigging capacity. 
The first half of 2014 has been great for Hill Crane. We look forward to working with our staff, partners and clients to make the second half even better.